Your cells always have two choices - they either release energy or they form fat. By forming fat, cells can process food with less oxygen. It's oxygen that provides the fuel to produce the energy. Unfortunately, if you're not breathing properly, you're not delivering enough oxygen to your cells and they're forced (practically at gunpoint) to use the "low oxygen" or fat storing processing route. That's why overweight people often feel tired. Their cells aren't releasing enough energy. It's also why football players wear those funny looking "breath strips," specially designed to keep the nasal passages open and the oxygen flowing. They need all the energy they can get.
A study by a famous weight-loss facility shows that 73 percent of all people who need to lose weight have faulty metabolisms. Why? Quite simply, they don't get enough oxygen. How could you possibly burn fat and other nutrients if you don't have enough fuel?
As you learn to breathe properly, you begin to deliver the oxygen your cells need to process food. You stimulate the enzymes that burn fat, which naturally increases your metabolic rate.
Breathing changes your body's chemistry, so once you lose weight, you can eat normally and never gain weight again.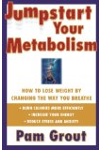 Continue Learning about Weight Loss