In general watching less TV will likely mean that you become more active! Although, if you workout while watching TV you could actually wind-up making TV a beneficial part of your day. For example: instead of just sitting and watching the morning news... while viewing, do crunches, pushups, leg lunges or if you have weights or other exercise equipment, put it to use!!
Chase away belly fat by pushing the "off" button on your TV remote. People who cut their TV time in half consume 100 fewer calories a day without even trying. That's a pound every 35 days without even trying!
Research shows that watching TV less than 10 hours a week will help you lose weight. Not only is watching TV a sedentary activity, it also takes the place of leisure time you could be using for other things, such as exercising or being active around the house.
Continue Learning about Weight Loss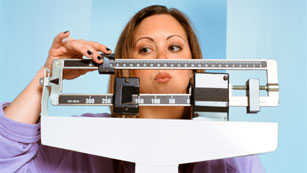 You know that to lose weight you need to burn more calories than you take in. There are only two ways to do this: reduce the number of calories you take in or increase the amount of calories you burn each day. Once you learn to do ...
this, it will be easier to maintain your weight.
More