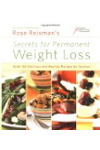 Successful dieters have certain characteristics in common:
They know they're capable of changing their habits even if they "fall off the wagon." They get back up and stay motivated.
Persistence and patience -- not willpower! Willpower always gives out at some point, whereas persistence and patience will ultimately take the lead.
Intense desire and motivation to succeed. Learn from your mistakes and move forward. Don't stop until you've reached your goal. There's no luck involved, just perseverance, consistency and drive.
A strong mental attitude, clear focus and direction. These mean eliminating all the excuses you've used for years that got you to this state. Those excuses only perpetuate the problem!
Food isn't an emotional crutch. It's not easy, but once you deal head-on with the real issues in your life you'll notice that food never solved anything. It was just a temporary distraction that made you feel better at your health's expense.