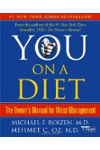 When many people quit smoking, one of the first things they'll do is complain about the weight they've gained after quitting. There's something to that. While cigarettes are bullets to your lungs, they do seem to help people control weight—possibly, in part, through the destruction of taste buds. But they also seem to help with increasing metabolic rate by up to 10 percent as well as helping to reduce appetite.

Well, the chances of my offering up cigarettes as a waist-control method are roughly the same as the 8-track tape making a comeback. I don't want to rule out nicotine as one of those early-program jumpstarts you can use to jump over a hurdle to increase your metabolism and reduce your appetite, however.

Studies have shown that nicotine—in the form of patches and gum, NOT in the form of cigarettes—when combined with a modest dose of caffeine (as in 2 cups of coffee) can help reduce weight of those who use it. It's not a long-term solution, but one that can help you adjust and automate.

I've prescribed a 7 mg nicotine patch to help some over a hurdle, combined with two cups of coffee (average cups, not the high-test espresso type—it would only be two thirds of one of those babies). Of course I ensure that such a patient doesn't have side effects triggered by the caffeine, such as migraine headaches, GERD, increased heartbeats, or anxiety.

Caffeine will raise your metabolic rate just a tad to burn more calories. Combine the two if you reach a hump period in your weight-loss program—and they can act as that crutch that will help keep your mind—and waist—in the right direction. Discuss this option with your doctor, who will need to write a prescription.