We all know we should drink more water. This water-band trick makes doing so easy. Slip five rubber bands on your wrist every morning. Each rubber band represents a 16-ounce glass of water. For every glass you drink, remove one rubber band until you've gone through all five.
Try keeping a water bottle on your desk at work—you can't forget when a bottle or glass is right there in front of you. You might also put sticky notes that say "drink up" where you're sure to see them—on your desktop or laptop or on the refrigerator door. Soon enough, you'll remember to drink your water regularly.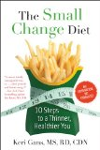 Continue Learning about Water
Plenty of water in your diet helps digestion, skin, and muscle tone. It can help prevent cramping during exercise and even relive stress. Many times we are low on water - dehydrated, and don't realize it. Being dehydrated can mani...
fest with symptoms like fatigue and depression. In fact, by the time we are feeling thirsty, we're already slightly dehydrated. That's one reason that we hear the recommendation to drink eight standard glasses of water daily. Adequate water helps you digest food an helps your body get rid of wastes. Your kidneys need to process water for you to eliminate waste by urination, and getting enough water ensures that these wastes are diluted. Not getting enough water can encourage the formation of painful kidney stones.
More