Water has many vital functions and makes up around 60% of your body. That's pretty amazing -- over half of your body weight is water, which means that less than half your weight is made up of bones, muscles and other tissues.
Does that fact, alone, give you a tiny hint as to why water -- and drinking enough of it -- is so important? Here are some amazing roles water plays in your body:
Helps your kidneys flush out all that waste.
Regulates your body's temperature.
Cushions organs and tissues.
Keeps your joints nice and lubricated.
Transports nutrients and oxygen throughout your body.
Helps keep you regular.
Keeps body tissues moist.
Helps keep your skin looking good.
This content originally appeared on
HeidiPowell.net
.
Here is a list of the many vital functions of water:
Many nutrients dissolve in water so that they can be absorbed more easily in your digestive tract.
Many metabolic processes take place in water.
Water is a component of the blood and thus is important for transporting chemicals and nutrients to cells and tissues.
Each of your cells is constantly bathed in a watery fluid.
Water carries waste materials from your cells to your kidneys so that they can be filtered out and eliminated.
Water absorbs and transports heat. For example, the heat produced by the muscle cells during exercise is carried by the water in the blood to the surface, helping your body to maintain the right temperature balance. The skin cells also release water as perspiration, which helps keep you cool.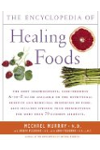 More About this Book
Encyclopedia of Healing Foods
From the bestselling authors of The Encyclopedia of Natural Medicine, the most comprehensive and practical guide available to the nutritional benefits and medicinal properties of virtually everything...
Continue Learning about Water & The Body