In order to create optimum carry-over into your particular sport, it is important to train the movement characteristics which hold precedence on the court or sand. The best program to enhance your playing ability for volleyball should include core, balance, plyometric, and resistance training. Volleyball movements require endurance, strength, and power from the entire body. The best program includes approximately four weeks of endurance training and exercises can include Swiss ball crunches, planks, squat jumps, and ball dumbbell flyes. Four weeks of strength training including supersets such as a push-ups followed immediately by an unstable movement for the same muscle group such as a ball dumbbell chest press. Four weeks of maximum strength training including more traditional exercises such as a chest press, pull-ups, as well as lat pull-downs. Finally, finishing in a power phase which includes a superset such as a latissimus dorsi pull-downs immediately followed by an explosive upper row using rubber tubing.

Continue Learning about Volleyball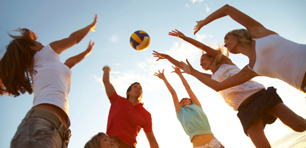 Volleyball is a team sport that involves cardiovascular endurance, agility, and hand-eye-coordination. Lateral movements, foot speed, and hip rotation are all important skills to possess. Proper elbow and knee-pads can help limit ...
injuries.
More