If you are over the age of 50, you may likely benefit from a vitamin B12 supplement or foods fortified with this vitamin.

The body's ability to absorb naturally occurring vitamin B12 from foods diminishes with age. This decline appears to be due to a reduction in the acidic juices in the stomach, which are needed to break the bonds that bind the B12 to the proteins in food. If the bonds aren't broken, the vitamin can't be released.

Up to 30 percent of individuals over the age of 50 experience this decline in acidic juices in their stomachs. With less acid juice present, the bacteria normally found in the intestines aren't properly destroyed and so tend to overgrow. This abundance of bacteria feed on vitamin B12, diminishing the amount of the vitamin that may be available.

Luckily, the synthetic form of vitamin B12 that is used in fortified foods and supplements isn't bound to a protein, so it doesn't depend on your stomach secretions to be absorbed. Because the synthetic variety is a more reliable source, individuals over the age of 50 should meet their vitamin B12 needs primarily from fortified foods or a supplement. B vitamins are being intensely studied for their benefits and pitfalls and what emerges is a complex picture.

Depending on who you are, what your condition is, and type of B vitamins you are taking, to name just three of the many variables, taking them could be beneficial or harmful.

According to research, some people at high risk of stroke or dementia may benefit from Triple B therapy (folic acid 800 micrograms, vitamin B12 500 micrograms, and vitamin B6 20 milligrams), with preservation of brain size, circulation and vision. Benefits are likely to be limited to people with homocysteine levels above 9.5 micromoles per liter who do not have advanced arterial disease.

In diabetics, people who have suffered a heart attack and those with severe hardening of the arteries, homocysteine-lowering with B vitamins may actually do more harm than good.
Continue Learning about Vitamins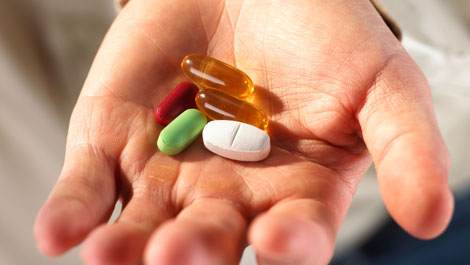 In the United States, the Food and Drug Administration (FDA) regulates vitamin supplements and provides recommended daily amount information. The FDA says that we should pay attention when considering vitamin supplements, because ...
frequently many different vitamins and minerals are combined into one product.
More