B vitamins help your body produce and use energy from the food you eat. In addition, vitamins B6 (pyridoxine), folic acid and B12 are needed to form red blood cells, which deliver oxygen to your muscle tissue.

B vitamins are in a wide variety of foods, including whole grains, enriched cereals and breads, beans, green leafy vegetables, dairy, eggs, lean meats, fish, poultry and peas. Vegans should consume vitamin B12­fortified nutritional yeast or fortified cereals (because vitamin B12 is only found in foods from animal sources such as meats, chicken, fish, eggs, cheese, milk, etc.).

Because the B vitamins are water­soluble -- they dissolve in water and excess is excreted in the urine each day -- you need to consume them every day. Use minimal water when cooking (unless the water is included in the final dish like it is in soups or stews). If you boil vegetables, you'll toss out some of your B vitamins along with the water.
B vitamins are essential for growth, development and many other bodily functions. They play a major role in the activities of enzymes, which are important for turning food into energy and other needed substances. B vitamins are important for a healthy diet and in the prevention of diseases. B vitamins help the body produce energy and keep the skin, nervous and digestive systems healthy.
In addition to their basic functions, B vitamins may help reduce the risk of certain diseases and conditions. For example, B6 and folate (B9) may help reduce the risk of death from stroke and heart attack. B vitamins may help slow the development of Alzheimer's. Folate may help reduce cancer risk. And a diet rich in B vitamins may play a role in reducing the effects of premenstrual syndrome (PMS).
This content originally appeared on
doctoroz.com
Continue Learning about Vitamins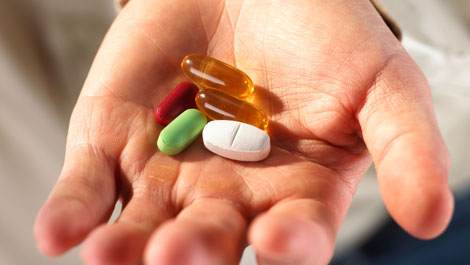 In the United States, the Food and Drug Administration (FDA) regulates vitamin supplements and provides recommended daily amount information. The FDA says that we should pay attention when considering vitamin supplements, because ...
frequently many different vitamins and minerals are combined into one product.
More