Most of the time, we can get adequate amounts of vitamins and minerals from our diets if we are following the RDAs. The Academy of Nutrition and Dietetics states that "no vitamin or mineral supplement should be required if an athlete is consuming adequate energy from a variety of foods to maintain body weight." Coupling exercise with a restrictive diet, with a diet that leaves out food groups, or with consumption of empty calories may result in insufficient vitamin and mineral intake. Age may also present a special challenge for absorbing enough vitamins and minerals because of low energy intake, impaired absorption, chronic medical problems, and medications.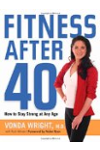 More About this Book
Fitness After 40: How to Stay Strong at Any Age
It's one of the undeniable facts of life. After we reach a certain age, our bodies change. No matter how fit we may have been at 20, we're very different people after 40. But growing older doesn't...
Continue Learning about Vitamins