Prenatal vitamins contain iron and this can cause side effects. Oral iron can cause mild nausea or upset stomach, constipation, and can darken the stools. Many women do not experience these side effects though. These symptoms are also common in normal pregnancy and can be hard to distinguish from side effects from iron.

If you are having mild GI symptoms in response to your prenatal vitamin you can try taking the vitamin at night. More significant symptoms (vomiting or abdominal pain) should be discussed with your doctor.
Generally, prenatal vitamins do not have pronounced side effects. However, some women feel nauseous or constipated when taking them. If you feel nauseous, it may help to take the prenatal vitamins at night or with food, and to chew gum or eat a hard candy after taking the vitamin. If you have constipation, you should drink water and eat more fiber. If you are constipated, you can also talk to your doctor about exercise and stool softeners, which can both help but could also be potentially dangerous for the pregnancy. If the side effects of prenatal vitamins are bothering you, speak to your doctor about your options.
Continue Learning about Vitamins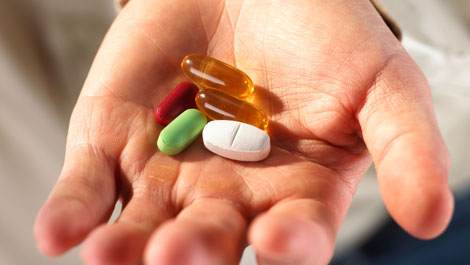 In the United States, the Food and Drug Administration (FDA) regulates vitamin supplements and provides recommended daily amount information. The FDA says that we should pay attention when considering vitamin supplements, because ...
frequently many different vitamins and minerals are combined into one product.
More