Participants in one arthritis study who had lower levels of vitamin D had up to a threefold increased risk of developing worsening arthritis of the knee, compared to those who consumed adequate amounts. Another study found that people with a lower intake of vitamin D had an increased risk of developing arthritis of the hip. Vitamin D is also critical in the prevention and treatment of osteoporosis. Toxicity is a concern and, if you take a supplement, don't take more than 1,000 IU per day.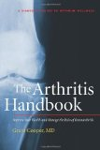 Low levels of vitamin D may increase the risk for osteoarthritis in the hip among elderly men, according to a study led by researchers at the University of California at San Francisco. And vitamin D may also help reduce the risk of rheumatoid arthritis in older women, according to another study.
Because vitamin D is so important for bone health, researchers thought it might also help treat the symptoms of osteoarthritis. In fact, in the Framingham study, exercise that strengthens muscles above and below the joint, vitamin C, vitamin D and calcium helped stop the progression of osteoarthritis. Other studies have shown vitamin D didn't prevent further damage. That's no reason to duck your Ds, though. D helps fight inflammation in your body, which could help osteoarthritis in the long run, in addition to helping other parts of your body. Get your daily Ds from a combination of foods like salmon, tuna, eggs and fortified beverages like OJ, milk, etc., and supplements.
Continue Learning about Vitamin D