Vitamin C is a key anti-aging nutrient that can help your skin stay young looking and healthy. In this video, weight management specialist Caroline Apovian, MD, explains how vitamin C helps produce collagen, which is important for healthy skin.
Vitamin C helps the skin retain collagen, giving it a more supple appearance. Vitamin C also cleans up free radicals, preventing them from damaging DNA, and helps control inflammation, aids in wound healing, and wards off infection. Whole food sources of vitamin C in the daily diet can include broccoli, cantaloupe, citrus fruits (oranges, grapefruit, tangerines), kiwifruit, peppers, potatoes, strawberries, tomatoes, and blueberries.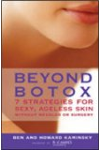 Vitamin C is described as an antioxidant in skin care products. Ascorbic acid, the most common form of which is vitamin C, can act as an antioxidant by scavenging free-radicals.

Use a sunscreen and wear protective clothing to safeguard your skin from the sun's harmful rays.
Vitamin C is essential to building collagen and elastin -- the fibers that make skin strong and stretchy. It is also a potent antioxidant, which means it can neutralize troublemaking free radicals. Scientists have shown that not getting enough C each day contributes to wrinkles and dryness.
Continue Learning about Vitamin C