Here is a list of commonly eaten foods from several food groups including, legumes, vegetables, fruits, and meats that are ranked richest to poorest. Several selections from a variety of foods in a person's diet help a person meet the recommendations for B6. Note the only ones listed are the best sources.
MEAT: Beef Liver (3 oz.)
VEGETABLES: Spinach (1 cup cooked), Bok Choy (1 cup cooked), Turnip Green (1 cup cooked), Asparagus (1 cup cooked), Cauliflower (1 cup cooked), Green pepper (1 whole), Mustard Greens (1 cup cooked).
FRUIT: Banana (1 peeled)
MISC: Brewer's Yeast (1 TBS)
DAIRY: Yogurt (nonfat) Greek Yogurt has 50% more protein)
BREADS & CEREALS: Whole Wheat Bread (1 slice)
LEGUMES, NUTS, SEEDS: Peanuts (1 oz. dried unsalted)
MISC: Brewers Yeast Vitamin B6 (pyridoxine) is found naturally in a lot of foods, but some of the best sources are fish, beef liver, meats, potatoes, yams and other starchy vegetables, eggs and non-citrus fruit. Fortified cereal is also a great source of vitamin B6. Most multivitamins also contain B6.
The best food sources are chicken, fish, liver, kidney, pork, bananas, spinach, sweet potato, white potato, garbanzo beans, walnuts, brown rice, soybeans, sunflower seeds, avocado, oats, peanuts, lima beans, peanut butter, prunes, and whole-wheat products. Fortified cereal has 100 percent of the RDA of vitamin B6, and one banana and one-half cup garbanzo beans gives you more than the RDA of vitamin B6.
The following foods are good sources of vitamin B6:
Yellowfin tuna
Wild salmon
Turkey breast
Russet potato, baked with skin
Banana
Cereal
Sweet potato, baked with skin
Chickpeas
Red bell pepper
Raw spinach
Good plant sources of vitamin B6 (pyridoxine) include whole grains, legumes, bananas, seeds and nuts, potatoes, Brussels sprouts, and cauliflower. In addition, vitamin B6 levels inside the cells of the body appear to be intricately linked to the magnesium content of the diet.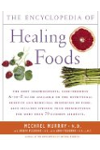 More About this Book
Encyclopedia of Healing Foods
From the bestselling authors of The Encyclopedia of Natural Medicine, the most comprehensive and practical guide available to the nutritional benefits and medicinal properties of virtually everything...