Preformed vitamin A occurs naturally in dairy products, eggs, fish and meat, especially liver. Carotenoids are found in bright yellow and orange vegetables such as carrots, pumpkin and sweet potatoes, broccoli and spinach. Preformed vitamin A, either as retinyl palmitate (most common) or retinyl acetate, is frequently added to milk and milk-based drinks, butter spreads, cereals, snack bars, cookies and cakes.

On average, cold cereals are the most likely to be fortified and have the highest levels of fortification, followed by instant hot cereals.
Eggs, milk, and fortified cereals are good sources of preformed vitamin A. For plant-based provitamin A, the following foods are your best bets. If you're not taking a multivitamin with A, try to include at least one serving of these foods in your daily mix:
Carrots
Sweet potatoes
Pumpkin and squash
Red bell pepper
Spinach
Cantaloupe
Mango
Broccoli
The best source of vitamin A is liver in animal products. Other good sources include sweet potatoes, carrots, dark leafy greens, eggs, tomatoes and fortified milk.
Watch this video to learn more from Dr. Mehmet Oz about vitamin A.


The list of foods that contain vitamin A is long, but here are the foods that give you the most bang for your buck of vitamin A. Some of these foods are rich enough to provide the RDA (Recommended Daily Value) and more in a single serving:
3 oz. of Beef Liver
1 cup of canned Pumpkin
1 whole baked Sweet potato
1 whole fresh Carrot
1 cup cooked from frozen Spinach
1 cup of baked Butternut Squash
1 cup of cooked turnip greens
1 cup of cooked Bok Choy
1 cup of cooked Mustard Greens
1 cup of chopped Romaine Lettuce Liver contains more vitamin A than many other foods, and vitamin A promotes normal vision. It also helps your eyes see normally in the dark, helping adjust to lower levels of light.

The recommended daily allowance of vitamin A is 3,000 International Units for men and 2,333 IU for women 14 and older. Besides liver, good sources of vitamin A include sweet potatoes, carrots and dark, leafy greens, as well as eggs, tomatoes and fortified milk.
The main sources of vitamin A are foods are from animals, especially eggs, organ meats, and whole milk dairy products. Since vitamin A is stored in fat, most foods that are high in vitamin A tend to be high in saturated fat and cholesterol. Some plants, such as carrots or broccoli, supply a pre-vitamin A called carotenoids. These are converted into vitamin A by the body as needed.
The best food sources are beef and chicken liver, whole milk, cheese, and eggs. You get vitamin A from beta-carotene in carrots, mango, sweet potato, spinach, cantaloupe, kale, apricots, red pepper, broccoli, and fortified foods.
To get more vitamin A in your diet, increase your consumption of the following foods:
sweet potato baked with the skin
raw carrots
kale
butternut squash
raw spinach
collard greens
green leaf lettuce
cantaloupe
pumpkin
red bell peppers
The most concentrated sources of preformed vitamin A are liver, whole milk, and fortified skim milk. Vitamin A can also be formed from beta-carotenes and other carotenes. The leading sources of pro vitamin A carotenes are dark green leafy vegetables, such as collards and spinach, and yellow-orange vegetables, such as carrots, sweet potatoes, yams, and squash.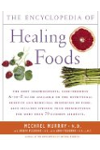 More About this Book
Encyclopedia of Healing Foods
From the bestselling authors of The Encyclopedia of Natural Medicine, the most comprehensive and practical guide available to the nutritional benefits and medicinal properties of virtually everything...