Compounds called isothiocyanates are derived from cruciferous vegetables such as kale, cabbage, collards, broccoli, cauliflower, and turnips. Recent studies have shown that isothiocyanates (ITCs) are important to enable interferon responsiveness, which serves as a potent stimulator to attack microbes such as viruses. Specifically, the effects of these ITCs have been shown to increase immune cell-killing capacity and resistance to viral infection with impressive results. Already, 3.3-diindolylmethane (DIM) has been shown to resolve cervical dysplasia, laryngeal papillomas, and warts. It is presently under investigational studies as a treatment for a variety of viral infections and antibiotic-resistant bacteria, including human immunodeficiency virus (HIV), human papilloma virus (HPV), and hepatitis.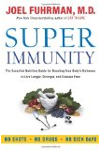 Continue Learning about Viral Infections

Viral infections like herpes simplex, respiratory syncytial virus (RSV), chicken pox and rotavirus are infections caused by a virus instead of a bacterium. Viral infections do not respond to antibiotics, but some specific viruses ...
like influenza A and B can be treated with certain antiviral medications. Most commonly, treatment for viral infections includes drinking lots of fluids, getting rest, eating well and letting the illness run its course.
More