When you receive a flu vaccine, your body thinks it has contracted a mild case of the illness, and it builds immunity against the virus. If you are exposed later to virus from a person with the flu, you may not get sick at all. Flu viruses may change from year to year and protection from a flu vaccine wears off over time, so doctors recommend getting a flu vaccine every year.
Preventive Medicine Specialist Dr. David Katz explains how the flu shot prevents you from getting the flu. Watch Dr. Katz's video for information on preventive medicine and overall wellness.
The flu shot prevents you from getting the flu, or influenza, by training your body's immune system to both recognize and fight the flu. After getting the flu shot, your body needs about two weeks to create this immune response. That is why it is important to get the flu shot at the beginning of the flu season. If you wait to get the shot until the flu is common in the community, you may be exposed to the flu before your body can create the desired immune response.
The seasonal flu vaccine protects you against the influenza viruses that research suggests will be most common during the upcoming flu season. "Trivalent" vaccines are made to protect against three flu viruses:
influenza A (H1N1) virus
influenza A (H3N2) virus
influenza B virus
Quadravalent flu vaccines are made to protect against four flu viruses. They protect against an additional influenza B virus.
The presence of the CDC logo and CDC content on this page should not be construed to imply endorsement by the US Government of any commercial products or services, or to replace the advice of a medical professional. The mark "CDC" is licensed under authority of the PHS
Continue Learning about Vaccine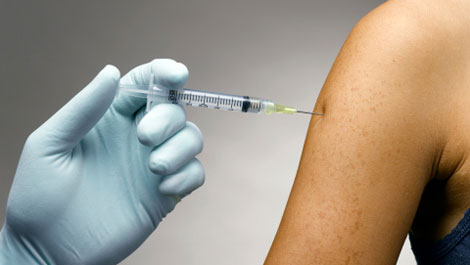 Vaccines work to protect your body against germs. Because of vaccines, many of the diseases that can cause severe sickness, handicaps and death have been eradicated. Learn more from our experts about vaccines.