Vaccinating your child helps other stay healthy because having the majority of a population effectively immunized creates "herd immunity." The infectious agent has nowhere to survive, so the population has very little exposure to it.
Unfortunately, 30 percent of kids in America aren't getting all the shots they need. That's more than scary, because missing even one shot could endanger your child's life and the lives of other children (and adults, for that matter). Unvaccinated children can spread disease to those who are too young or too medically fragile to be immunized. Also, there will always be some unvaccinated people among us -- such as the elderly and people who lack health care -- and having a high vaccination rate is the only way to protect them, by reducing the chance that they'll come in contact with an infected person.
From The Smart Parent's Guide: Getting Your Kids Through Checkups, Illnesses, and Accidents by Jennifer Trachtenberg.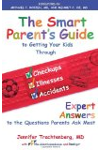 Continue Learning about Vaccines & Immunizations

Vaccines are commonly given to children in the form of a shot to help prevent serious diseases like measles and mumps. Vaccines are developed using either dead strains of a disease, weakened strains, or strains of a different dise...
ase. As adults, we receive flu vaccines or may need a booster of childhood vaccines to retain immunity. Travelers may receive vaccines either as a condition of entry to a country, or on recommendation of health officials. Generally there is little or no reaction to a vaccine, but in some cases the vaccine may cause an allergic reaction or a temporary, mild illness. Some vaccines are not safe for pregnant women, so it's important to check with a healthcare professional.
More