Yes, all of the research data indicates that the benefits from vaccinations greatly outweigh the potential risks. Vaccinations have been shown to reduce morbidity and mortality with very little risk. Appropriate vaccination is the most important thing you can do to keep yourself and your family healthy.
In my mind, there is no question that vaccines work! Being sure our children get all of their vaccines makes the most sense to me.

Many parents understand the value in immunizing their children. In fact, more than 80% of children have received all the recommended vaccinations. But, almost 1 in 5 children has not. This means every year children get severe illnesses and possibly even die from diseases that could have been prevented by a vaccine.

Parents may not immunize their child because they think that the diseases being prevented are not common enough for their son or daughter to catch. This is not true. Infectious diseases are widespread around the world. Plus, they are still diagnosed in the communities where we live.

Other parents may not immunize their children because they are concerned about the safety of vaccines. Try not to worry. All vaccines are carefully studied in large numbers of children for many years before they are licensed for routine use.

Once a vaccine is licensed, it is continuously monitored for safety and how well it works. These safeguards should help you (and all parents) have confidence in how safe vaccines really are.

Allergic reactions to immunizations are very rare. And many studies have been done looking at whether vaccines cause autism or ADHD. The answer is clearly NO.

By properly immunizing all children, there hopefully will be fewer and fewer cases of these deadly diseases each year.
Bottom Line: Huge Benefits Outweigh Tiny Risks. When it comes to vaccinations, that's understating it. All my parents know my stance: It's much safer to receive all vaccinations on time than to risk a life-threatening disease. While no vaccine gives 100 percent immunity, we can largely thank vaccines for the robust health our children enjoy today compared to those of bygone eras. We now regard this good health as the norm. Many of us forget that a number of miserable diseases will return in a heartbeat if widespread vaccinations are ever interrupted.
From The Smart Parent's Guide: Getting Your Kids Through Checkups, Illnesses, and Accidents by Jennifer Trachtenberg.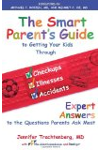 Continue Learning about Vaccines & Immunizations