Transient (temporary, reversible, or acute) incontinence is usually caused by an illness or a specific medical condition that is more or less short-lived and is, therefore, quickly remedied by appropriate treatment of the condition and disappearance of symptoms. It may develop as a result of:
• A stroke, when the brain, the spinal cord, the bladder, and the pelvic floor are not in good working order.
• Surgery or after any illness that limits mobility, makes physical activity a challenge, or interferes with the mental awareness of the patient.
• Bowel impaction or constipation, in which a large mass of hard stool lodges in the intestine or rectum. This may give a signal to the bladder that it's okay not to empty. The stool may also block or irritate the bladder by putting pressure on it, causing either incontinence or urine retention.
• Depression. Doctors are investigating whether the same pathways that cause incontinence may also cause depression or if incontinence, itself, is just plain depressing.
• Irritation or inflammation of the bladder (cystitis), the urethra (urethritis), or the vagina (vaginitis).
• The use of certain medications: diuretics (water pills that increase the output of urine and cause the bladder to fill more quickly); sleeping pills, muscle relaxants, sedatives, and alcohol that relax muscles to the point where the user becomes unaware of the need to urinate; decongestants, antihistamines, and nasal sprays that tighten the pelvic floor muscles causing difficulty in voiding; antidepressants and narcotics that relax the bladder so that it doesn't contract properly.
• A lack of estrogen, which may cause atrophic vaginitis/cystitis.
• A sluggish thyroid or diabetes.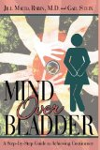 Continue Learning about Urinary Incontinence