Learn why dribbling of urine can be a normal sign of aging or an indication of a serious urological disorder. Watch this video with urologist Kyle Himsl, MD from Los Robles Hospital & Medical Center.
Dribbling of urine in men is most commonly caused by an enlarged prostate, says Timothy Atkinson, MD, from Frankfort Regional Medical Center. Discover exactly what happens in this short clip.
Many men, young and old, are troubled by the dribbling of urine after the main stream has stopped and the bladder feels empty. Even if they wait a moment and shake the penis before zipping up, there can be embarrassing wet or stained trousers. At highest risk: men with enlarged prostates.

The medical term for this is post-micturition dribbling. It occurs when the muscles surrounding the urethra don't squeeze hard enough for it to empty completely, leaving a small pool of urine at a dip in the urethra behind the base of the penis. Within a few minutes, the urine dribbles out.
Continue Learning about Urinary Incontinence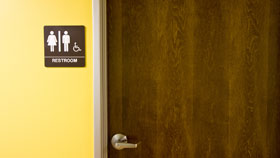 Urinary incontinence (UI) is the accidental release of urine, which can affect both men and women. Symptoms of UI may differ from person to person and the treatment options range from medications to surgery. Learn more from our ex...
perts about UI.
More