The most common types of urinary incontinence are urge incontinence, overflow incontinence, stress incontinence and functional incontinence.

There are two types of overflow incontinence. In one, the neck of the bladder is obstructed, most commonly by a large prostate in men. And in the other, the detrusor muscle is underactive, most commonly caused by diabetes. In both, the bladder fills with urine until it is like a balloon, and then urine overflows.
Continue Learning about Urinary Incontinence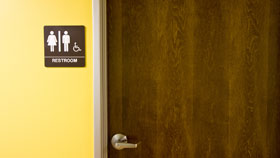 Urinary incontinence (UI) is the accidental release of urine, which can affect both men and women. Symptoms of UI may differ from person to person and the treatment options range from medications to surgery. Learn more from our ex...
perts about UI.
More