What increases my risk for stress urinary incontinence (SUI)?
Gender is one of the prime risk factors for stress urinary incontinence: women are more likely to have incontinence due to carrying and birthing a child, menopause, and the way the female anatomy is constructed. However, men can also be at risk if they have prostate issues. Other illnesses, such as diabetes or kidney disease, can increase your risk for developing urinary incontinence. Lastly, being overweight or smoking can also lead to incontinence.
Being overweight, not doing pelvic floor muscle exercises (PFME-ask your doctor, obgyn or physical therapist), over or under intake of fluids, smoking and the chronic coughing that may accompany it, and certain medications (review with your physician). pregnancy, chronic constipation, menopause and a family history of SUI and pelvic organ prolapse.
Continue Learning about Urinary Incontinence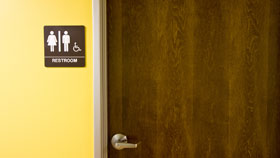 Urinary incontinence (UI) is the accidental release of urine, which can affect both men and women. Symptoms of UI may differ from person to person and the treatment options range from medications to surgery. Learn more from our ex...
perts about UI.
More