If you have overflow incontinence because something is blocking your urethra (such as an enlarged prostate in a man) or bladder (such as a prolapsed uterus in a women), surgery can be performed to remove the obstruction. The procedures and results will depend on the exact cause and location of the blockage.

For example, a man with an enlarged prostate may undergo transurethral resection of the prostate, or TURP, an incision-free surgical procedure that reduces prostate tissues with an electrical loop. It relieves urinary obstruction in at least 75% of cases, and the improvement is usually long-lasting. However, urinary problems can recur if the prostate tissue grows back. While TURP may aid overflow incontinence, other types of incontinence may occur as a side effect of the procedure.

Women with incontinence resulting from a prolapsed bladder, uterus, or rectum may undergo procedures to reposition the out-of-place organs and shore up their support.
Continue Learning about Urinary Incontinence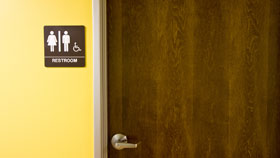 Urinary incontinence (UI) is the accidental release of urine, which can affect both men and women. Symptoms of UI may differ from person to person and the treatment options range from medications to surgery. Learn more from our ex...
perts about UI.
More