Because the most common and troubling harms of surgery have to do with two basic bodily functions, the ability to control one's bladder and to have sex, there is a good possibility of suffering at least some erectile dysfunction (impotence) or urinary incontinence as a result of the surgery.

Between 20 and 63 out of 100 men will require pads or clamps following surgery to control urinary dripping. For most it is mild, requiring no more than one protective pad per day. For some there is "stress incontinence," the inability to control urine under stress (e.g., physical exertion, laughing, sneezing, etc.); this may occur in about 10 out of 100 cases. Severe incontinence, necessitating continuous wearing of protective pads, is unusual, occurring in about 1 to 7 out of 100 cases. Some men (perhaps 5 in 100) eventually require surgery to correct their urinary difficulties.

Nerve-sparing surgery may reduce the likelihood of mild incontinence in younger men to about 10 out of 100. Urethral strictures, which require at least one procedure to dilate the urethra, may develop due to scar tissue formation in about 10 to 20 out of every 100 cases.
Depending upon the experience of the surgeon, as many as 40% of patients will suffer from post surgery urinary incontinence, a potentially devastating loss of urinary control.
The underlying cause of post-prostatectomy incontinence is weakness in the urinary sphincter, a ring of muscles that control the flow of urine from the bladder. Though the exact cause of this sphincter deficiency is not known, we do know that the experience of the surgeon performing the radical prostatectomy has a tremendous impact. Higher-volume surgeons do have better results with a lower risk of incontinence.
Urinary incontinence after prostate cancer treatment is less common than erectile dysfunction (ED). The Journal of the National Cancer Institute study found that two years after radical prostatectomy, 28% of the men were using pads to absorb leakage. Men who undergo external beam radiation fare better. Two years after treatment, only 3.5% of them reported leakage. And a follow-up study comparing radical prostatectomy to external beam radiation found that after five years, 14% to 16% of men who had radical prostatectomy were incontinent, compared with only 4% of men who had external beam radiation.
Continue Learning about Urinary Incontinence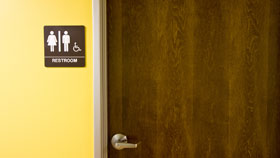 Urinary incontinence (UI) is the accidental release of urine, which can affect both men and women. Symptoms of UI may differ from person to person and the treatment options range from medications to surgery. Learn more from our ex...
perts about UI.
More