Pelvic floor muscle exercise with strengthening exercises is considered to be the cornerstone of all treatment for pelvic floor weakness and incontinence. It has been suggested that regular exercise of the pelvic floor should be part of a woman's routine health care including Pap tests and monthly breast self examination. The principle of restoring strength to the pelvic muscle (the pelvic floor and the urethral sphincter) with the help of reeducation and exercise has been demonstrated to control incontinence. Pelvic floor muscle exercise can help control stress incontinence (known as the incontinence which occurs from pelvic floor muscle weakness and leakage occurring with cough, laugh, or sneeze) by strengthening the pelvic muscle and the pelvic floor muscles which support the bladder, urethra, vagina and rectum. Thus, with a cough, laugh, or sneeze, the bladder and urethral sphincter are better supported. When pelvic floor muscle exercises are used for the treatment of urge incontinence (incontinence which occurs when the bladder does not warn the urethra and frequently due to improper nerve functioning of the bladder and urethra), unstable bladder contractions are reduced through a nerve reflex reset. Thus, pelvic floor muscle exercises do help control not only stress but urge incontinence and should be part of every woman's regular health care routine.
One of the ways that pelvic floor muscle exercises are performed are to contract the vaginal muscle tightly and strongly for a count of 5 and relaxing this muscle for a count of 10. This is repeated 5 times and is known as a set; doing from 10 sets per day building up to 20 sets over the course of 6-8 weeks may result in a noticeable improvement in incontinence.
Continue Learning about Urinary Incontinence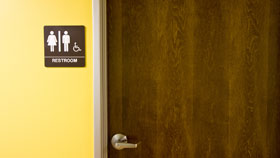 Urinary incontinence (UI) is the accidental release of urine, which can affect both men and women. Symptoms of UI may differ from person to person and the treatment options range from medications to surgery. Learn more from our ex...
perts about UI.
More