The purpose of directed neck range of motion exercises is to prevent adhesions and joint stiffness from forming. These exercises can be done in very little time and should be done to break up periods of static positions. For example, if you find yourself sitting at a computer or watching TV your neck might be in a static position. Break it up with range of motion exercises. Do this 2 or more times per day.
Directed neck range of motion exercises take only five minutes and should be done at least two to three times daily or any time you are keeping your head and neck in the same position for a long time (for instance, while reading or working at the computer). Even doing a few abbreviated movements at the computer or while watching TV will help prevent stiffness from occurring or old adhesions from reforming.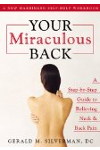 Continue Learning about Types Of Exercise Programs


From walking to engaging in team sports, exercise comes in many forms. Aerobics, stretching, weightlifting and endurance training are some of the types of exercise that produce health benefits and enjoyment. With each type of exer...
cise, proper technique and posture is critical in preventing injuries while achieving maximum health results.
More