Preserving lean muscle mass is important during all weight loss programs. Muscle helps amp up your metabolism and provides tone and definition to your body. To avoid declines in resting metabolism you should avoid starvation diets that could lead to wasting of muscle and instead build and maintain muscle for active living. Maintaining muscle mass is particularly important during aging because some of the decline in resting metabolism associated with age is caused by a decline of muscle.
People forget how valuable muscle mass is to quality of life, longevity, and the ability to maximize energy. Certainly genetics and special conditions, such as thyroid issues, can come into play, but the overriding factor in both weight gain and metabolic rate is muscle mass. Unlike fat, muscle is a high-maintenance tissue. It's in constant use by the body, and as such it requires a lot of energy to keep it in good working order. This helps explain why lean, more muscular people have an easier time burning calories at rest than do people with higher proportions of body fat. Muscle burns calories, whereas fat just stores them.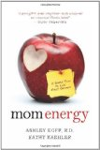 More About this Book
Mom Energy: A Simple Plan to Live Fully Charged
       From celebrated dietitian Ashley Koff and fitness trainer to the stars Kathy Kaehler comes Mom Energy, an exciting new way for moms to tap into their own natural and renewable sources of...
Continue Learning about Types Of Exercise Programs


From walking to engaging in team sports, exercise comes in many forms. Aerobics, stretching, weightlifting and endurance training are some of the types of exercise that produce health benefits and enjoyment. With each type of exer...
cise, proper technique and posture is critical in preventing injuries while achieving maximum health results.
More