Mild stretches and exercise that are completed in forms of movement such as yoga, pilates, and tai chi are going to be very beneficial to your health. These forms of exercise will benefit your body with low impact which will result in a decreased chance of injury, a decreased chance for soreness, and an improved body image.
Many of us have a tendency to push too hard, too fast, or too far when stretching – causing our muscles to resist what we are trying to do. Our muscles are very complex and actually have receptors (organs that gather and process information) that are there to prevent us from getting injured if we stretch too hard or too fast. Mild stretches and exercises help your body because they don't initiate that protective response that causes our muscles to fight back – allowing us to relax and get the result we are looking for.
Mild stretches and exercises, like yoga and tai chi, increase strength and flexibility without tearing or straining your muscles, tendons, ligaments, and joints. By gently stretching and smoothly moving between poses, you strengthen your muscles, and increase your heart rate without the stress of a high-intensity cardio work out. It also forces you to breathe deeply and increases your mind-body awareness, which is psychologically beneficial.
Mild stretches and exercises do wonders for your body. Everyone I know is out of balance from sitting too long, sleeping on one side of their body at night, using a computer.... That is why simple passive stretches can be the most effective. It is like having food in your teeth. You wouldn't leave it there would you? You would floss it out. That is why it is important to learn mild stretches to open your muscles and balance you back out, but you can't do that without being hydrated. They go hand in hand, so be sure to evaporate any tension in your body as soon as it occurs. Don't leave it there. Tai Chi and Chi Gong are great ways. If that is not for you try a restorative yoga class.


A set of mild stretches and exercises developed specifically to cleanse your energy body is given in Chapter 10 of the book Your Hands Can Heal You. They can be used as a warm-up to a more vigorous exercise program, if you practice one, or alone as part of your energy work and self-healing. They're particularly good for those who are physically restricted or don't have the time to exercise, because they give you maximum energy benefit in minimum time and with little exertion. These exercises can also serve as your pre- and post-meditation exercise routine. Used before meditation, they open up your energy channels to prepare them to get the prana flowing through them. Used after meditation, they prevent energy congestion. Don't be misled by their simplicity. They're powerful.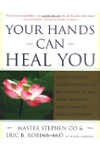 Continue Learning about Types Of Exercise


Exercise provides many health benefits - from fitness to increased physical and mental energy. In order to prepare yourself for a exercise routine, you need to research which exercise is right for you and how to fit a new exercise ...
e program into your daily schedule.
More