One of the best ways to make exercise a regular part of your life is by making it a habit. Set aside an hour or two every day to be fit and be active. Time spent exercising does not have to be limited to the fitness center. Get outside and go for walks or buy a bike and go for rides. There are many ways to stay active, the only limit is your imagination.
My answer is going to come down to what is in your heart and in your mind. Is it your mindset to be active, be healthy and fit? Do you love to workout and be fit? If you answered yes then fitness will always be a part of your lifestyle.
However if you just don't think about it or you don't love doing it then you probably will always yo-yo.
The mindset part is just a decision that you make and for the most part fitness is not quick nor is it complex. If you are 40 and not ate well or been active then you can't get in shape in 12 weeks, it takes time. It also is not complex, if you start moving more and eating better then you will get in better shape. I tell all my clients to be ready and being ready is not something you can say. Being ready is a decision that is made because when times get tough and situations arise will you push through or stop, if you made the decision to be ready then you will persevere.
Finally you must fall in love with fitness. If you love the work associated with fitness, the healthy lifestyle and the benefits and you do it out of love instead of obligation then you also will have much greater longevity in fitness.
Having the right mindset and heart toward fitness is the main way to make it a regular part of your life.
Start with overpaying for an excellent pedometer (see 360-5.com) and build to walking 10,000 steps a day everyday. Then add resistance exercises. You can do the YOU On A Diet workout as you use your body as your gym. Resistance exercises should always start 15 or more days before cardio to prevent injuries.

Thirty days after that, consider adding (that was in addition, adding) cardio. But first make sure you are healthy enough for exercise. If you get the A-OK from your doc, then buy a pedometer. You should start tracking your steps. See how many you take on an average day. Then make it a goal to add 250 more a week so you work your way up to 10,000 steps a day. Now you don't just have to get those steps by getting off the bus a stop early, taking the stairs instead of the elevator, or parking on the other end of the lot from the store.

Do you love swimming as much as Michael Phelps? Jump in! Do you think you could be on Dancing With The Stars? Dance those pants off. The key is finding something you like and that you are likely to keep up. Some people feel more comfortable working with an exercise trainer to get a program in place. Whatever you decide, schedule it into your day as you would a meeting. Set your alarm, get your game on, and do it. Then you can increase the time and intensity as time goes on.
Choose a Minimum amount of daily physical activity to include in your daily lifestyle. Your Minimum is the opposite of a goal. It is a floor: part of your base level of well-being below which you refuse to go no matter what may try to interfere. Take no days off from your Minimum.

Sound difficult? It is not, so long as you aim low. Again, think floor, not goal. In a pinch you must be able to accomplish your Minimum at 11pm, with a head cold, in the snow, wearing moon boots, pushing a stroller. I like to run, so my Min is 2 miles by foot, any speed. I usually run, but will accept walking. Approximately twice per week I don't get my Minimum in before 9pm. That is fine, since it benefits my sleep and decreases my nighttime snacking. Maybe your Minimum is walking up the hill by your home twice, or performing a short fixed workout in your home. Be creative, aim low. Just don't accept less than your Minimum. Many days you will exercise more, even reach some goals, but on zero days should you live without your Minimum (barring serious injury or illness). Keep track of how many days, months, years you keep this up, and the effect it has on your health and attitude.
There are a few important elements to starting to move toward maintaining a regular exercise program. Have fun. Start small. Find an exercise partner.

Goal setting is also helpful. In setting goals it's important to think realistically (doing some exercise but not too much exercise) about setting 2-3 small, short term goals that come out of your long term goals. For example, a long term goal might be losing weight. 2-3 short term goals might include adding one more serving of fruit, eliminating one serving of carbohydrate and adding one 20 minute walk into your week. As you find yourself reaching one goal you'll find your confidence and motivation increasing to reach the next goal. You will also need to take into consideration what 'things' help you to exercise: groups, friends and family and what 'things' get in the way of exercising: time, energy, work and motivation. Once you are aware of what things you need to exercise and what gets in the way you are better able to incorporate those into your goals to help you move forward and build confidence. For example, if you don't like to workout alone then it's important to be aware of that, add that to your goals and find someone to workout with you. If work is a barrier to exercise, add that to your goals and find a way to either incorporate exercise into your work or add it before or after your work.
Literally, the world is your gym. Now you just have to take the opportunity to use it. You can add exercise into your regular day is so many easy ways:
Parking in the furthest spot at the store
Take the stairs instead of the elevator
Do calf raises while standing in line at the grocery store
During commercials breaks do push-ups and squats
Lunge your way to the laundry room or restroom
Take your kids to the park and while you are there: use the monkey bars or do push-ups on the first step of the slide
Take your kids outside and play tag
Jog around the house once
Go roller blading with your kids
Take your kids out for a bike ride
If you can be creative, you can add exercise into pretty much every part of your day, and research shows those who do, will live a longer, healthier life.
When I hit forty (which is also when I had my second child), I had to make some big decisions about my body. My main challenge was to find a form of exercise that I would stick with. That's how I discovered hiking with friends. Not only did I enjoy it, but it soon became a passion. Three or four times a week, instead of going to lunch, my friends and I go on a hike. We observe a strict policy: Everything that is said on the hike stays on the hike. The other rule is that the one (or ones) in better shape talk on the way up the hill and the others on the way down. Recently, we did a birthday hike for a friend. We hiked to Inspiration Point at Will Rogers Park in Los Angeles, toting along backpacks filled with healthy food. We put a tablecloth on a picnic table, opened individual mini-bottles of champagne, toasted the birthday girl, and feasted on cheese, vegetables, and fruit (okay, and on some dark chocolate, too!).
You might enjoy running, swimming, biking, or playing tennis, but if you're not a naturally athletic person -- and I'm not -- you've got to make exercise fun; otherwise it will never become part of your life. Along with my hikes, yoga has become another form of exercise I've grown to love. Even better, it's a love I can share with my younger daughter, Isabella. Through yoga, I've become stronger, more flexible, more aware of my body, and -- a big bonus -- closer to my daughter.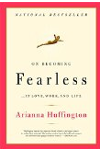 More About this Book
On Becoming Fearless...in Love, Work, and Life
Observing that her own teenage daughters were beginning to experience some of the same fears that had once burdened her--how attractive am I? do people like me? do I dare speak up?--Arianna...
Continue Learning about Types Of Exercise


Exercise provides many health benefits - from fitness to increased physical and mental energy. In order to prepare yourself for a exercise routine, you need to research which exercise is right for you and how to fit a new exercise ...
e program into your daily schedule.
More