What is triphala?
Triphala is an ancient ayurvedic herb that is composed of three dried Indian superfruits that work synergistically together: amalaki, haritaki and bibhitaki.
Amalaki works as a natural antioxidant and removes excess inflammation from the body. It also helps to increase lean body mass and maintain healthy blood sugar levels.
Haritaki supports the body's natural cleansing process by gently removing toxins that accumulate in the colon.
Bibhitaki is particularly effective in reducing the accumulation of fat and fluids in the body.
Continue Learning about Traditional Medicine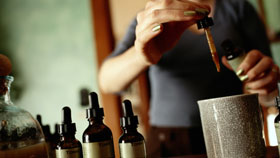 Traditional healing methods range from ginger tea for a cold to an entire medical systems -- such as traditional Chinese and Ayurvedic medicine.