Traditional healing methods are diverse, yet most are rooted in the following principles:
Health is not merely the absence of disease but a state of well-being in which the body, mind, and spirit are balanced.
Disease and treatment affect the whole body, not just one part.
Human energy flow (variously called chi or qi, prana, life force, or vital energy) can be affected by disease or treatment.
Each person has a great capacity for self-healing.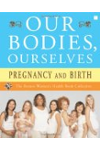 More About this Book
Our Bodies, Ourselves: Pregnancy and Birth
ALL THE INFORMATION YOU NEED TO MAKE WISE DECISIONS ABOUT YOUR PREGNANCY AND THE BIRTH OF YOUR CHILD -- FROM THE EDITORS OF THE CLASSIC "BIBLE OF WOMEN'S HEALTH" Pregnancy and birth are as ordinary...
Continue Learning about Traditional Medicine