A seven-month study conducted by MTV and Associated Press interviewed nearly 1,300 young people aged 13 to 24 years old. The results revealed that the majority of teens find the most happiness in their family and listed their parents as their heroes. Here are key findings in the survey that I think all parents need to hear to help their teens be happy:
Stay involved in your teen's life. Not only did the teens say they like us, but they also want us in their lives. Wow! Word of warning: don't wait for a personalized invitation from your teen. "Yo Mom, let's go have a great talk about our family values." The trick is that we parents still need to be a bit crafty and find ways to stay involved in our kids' lives without invading their space. They do want privacy. They do want time with their peers.
Find ways to get into your kid's zone. Utilize the time your son or daughter is most receptive to talking and then be available. (Forget the first few hours in the morning. I swear teens are on a different time zone and don't wake up until at least noon. Bless their teachers). I finally discovered with one son the best time was five o'clock in the afternoon—and always near the refrigerator. And that's where I'd plant myself.
Watch out for those judgments and criticisms. Nothing turns a teen off faster. In fact, listen twice as much as you talk. And don't push for a response. Wait. Research shows teens are processing and sometimes those words take a little longer to come out.
Finally, find "common connectors." What are things you and your teen could enjoy doing together? Is it going to be basketball game, yoga, a book club, exercising, watching Friends reruns, or shopping. Find one common connector so you can stay involved together.
Watch out for stress and pressure. This was the big red flag. Thirty-eight percent of teens said they feel stressed frequently; 47 percent said they felt somewhat stressed. The biggest stressor for teens was school. This result confirms every other study I've read. Our kids are stressed and stress is mounting. The key parent question is always: "Does the stress stimulate or paralyze my teen?" The answer tells you what direction you need to take for your child's health and happiness.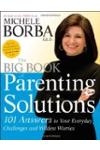 Continue Learning about Teens Emotional Health