In terms of growth, hair goes through its own life cycle; a biological process dictated largely by your genetic disposition. There are two main phases:

Anagen (active): Cells in the root are dividing quickly and pushing the hair out. This stage typically lasts two to three years per hair follicle.

Telogen (resting): This phase lasts for about a hundred days on the scalp. Consider it hair hibernation; the follicle is completely at rest. And these are the hairs that fall out and you find in your brush or clogging your drain.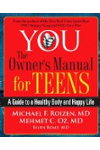 Continue Learning about Teen Perspective: Understanding Anatomy