Your nails grow from the area under your cuticle (called the matrix) the same way hair grows from follicles. As new cells grow, older cells become hard and compacted, basically becoming the keratin, and are eventually pushed out toward your fingertips. Fingernails - which grow faster than toenails and which grow faster over the summer than the winter - grow about a tenth of a millimeter a day, which means that it takes a fingernail about four to six months to fully grow out.
As you age, your nail growth slows down, eventually growing half as fast when you're 80 as when you're 10. Other than Howard Hughes and certain circus actors, who cares about how fast your nails grow? Having healthy nails is the important thing.
By the way, nails actually don't keep growing after you die. This is a myth. After death, your skin loses water and shrinks, so your nails appear larger and longer and that creates an illusion that the nails are growing to an already nervous on-looker.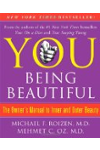 Continue Learning about Teen Perspective: Understanding Anatomy