If you feel inadequate and insecure, you will likely interpret things that people say as supporting your sense of inadequacy. If you are greedy, hostile, or have other feelings that you have suppressed and/or are unconscious of, you will probably think that people are treating you with hostility and greed.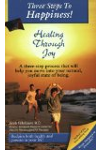 More About this Book
Three Steps to Happiness! Healing Through Joy
Happiness is our natural state of being. It is who we are. This happiness is obvious when you look at little children before they take on society's beliefs. Their natural state is to feel all of...
Your self image is all you know. Your self image is a blueprint of who you perceive youself to be. For most of us this blueprint has followed us through childhood and is ingrained in us. We see people through the eyes of that blueprint. This blueprint forms our perceptions and how we interpret peoples actions.
The problem is even though perception is reality your interpretation of reality is not always reality for the other person. It's important to check-in with the other person about your perception. Some may call it a reality check.
Continue Learning about Teen Perspective: Self-Esteem Building