Here is a recipe for a healthy breakfast smoothie:
Superfood Breakfast Smoothie
1/2 cup yogurt, plain or sweetened with sugar
1 cup fresh fruit of your choosing, plus at least ½ banana
1 tsp honey, if needed
1 tbsp psyllium husks
1 cup ice (or use frozen fruit and skip ice)
Yield: 2 1/2 cups
Calories: 435
Total fat: 4.5 g
Fiber: 11.8 g
Protein: 8.8 g
Optional: Add the contents of 2 Ester-C capsules along with a capful of an algae or chlorophyll supplement (any health food store will have one) and one serving bee pollen for an extra energy boost and an easy way to get some of your vitamins. Whir all ingredients in a blender until smooth and creamy.
Psyllium husks help clean your digestive tract and expand with water, so that you'll be nice and full. And if you add the optional vitamin supplements, it packs a powerful vitamin punch. Enjoy!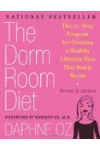 This super easy smoothie is full of antioxidants, fiber, phytochemicals, and protein. All you need is your dorm frige and a mini-blender.
AM Energy Smoothie
6 tablespoons soy milk
6 tablespoons Calcium + Vitamin D orange juice
1 tablespoon oat bran
1 tablespoon wheat germ
1 tablespoon ground flaxseed
1 ounce soft tofu
¼ cup finely chopped carrots
⅓ cup fresh fruit, such as peaches or berries
Pour the milk and juice into a blender. Add the bran, wheat germ, and flax. Pulse blender to combine these ingredients.
Add the tofu, carrots, and fruit. Blend until smooth.
Yield: about 1½ cups
Nutrition Information: 225 calories, 33 g carbohydrates, 13 g protein, 5 g fat Here is an easy and fabulous breakfast smoothie:
Combine your favorite nonfat yogurt, fruit (berries, banana, kiwi, etc.) and a splash of nonfat milk in a blender. Combine for a sweet, thick and healthy morning smoothie. Continue Learning about Teen Perspective: Nutrition and Healthy Eating