These are some of the foods I was able to find easily at my college, either at the campus food store or at a nearby convenience store. Buying them regularly didn't break the bank. The ones that needed preparation involved merely adding hot water or using the small communal kitchen downstairs, and the perishable items were easy to store.

Apples
Applesauce, unsweetened
Apricots
Bananas
Blackberries
Blueberries
Cherries
Cranberries
Figs
Grapefruit
Grapes
Kiwi
Lemon
Lime
Mangoes
Melon
Nectarines
Oranges
Papaya
Peaches
Pears
Pineapple
Plums
Raspberries
Strawberries
Tangelo
Tangerines
Watermelon

Remember, you should eat all fruit raw, whenever possible. Dried fruit has an abundance of condensed sugar, and stewed or packaged fruits often have had sugar added. If you can't store or don't like raw fruit, go for the dehydrated kind (for example, JustFruit bars) or have a little dried fruit with no sugar added.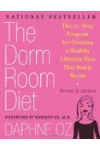 Opt for seasonal fruit whenever possible. Choose fruits that don't have to be refrigerated and that tend to have a longer shelf life. There are lots of options, so go for the ones that that look good and are on sale this week. Try these for starters...
Bananas
Apples
Pears
Oranges
Peaches, nectarines, apricots, plums
Kiwi, mangoes
Dried wild blueberries, cherries, mangoes and others (no sugar added)
These are all backpack-friendly but to keep it in tip-top shape, carry the fruit in a lunch bag. If you peel, cut or slice the fruit, make sure you keep it refrigerated at 40°F or eat it within 2 hours to keep it safe.
If you have a refrigerator in your dorm room, stock it with apples, oranges, clemetines, and grapes. Bananas don't need to be refrigerated. You can also buy individual size canned fruit, packed in juice, at a local supermarket. Continue Learning about Teen Perspective: Nutrition and Healthy Eating