The cafeteria, you'll find, is truly a lifesaver. You have a huge variety of food from which to choose, so there is no excuse to eat poorly. You won't have to worry about missing out on your favorite entree, since the cafeteria will usually repeat its menu several times throughout the year. Therefore, you know that if you choose to be good and refuse the mac-and-cheese today because you already had something less than nutritious earlier, you will have the chance to eat that dish later on in the month -- maybe even that week. With such an array of food options available to you, you can be confident that you'll never go hungry, so there's no reason to stock up on extra calories. Also, there are often healthy eating initiatives on college campuses, usually student-headed, and the response has been tremendous. For instance, cafeterias across the country are now required to have vegetarian options available at every meal.

And here's the best part: you don't have to do any dishes, help prepare anything, or deal with any of the leftovers. (Many schools, however, do offer positions in cafeteria services, if you're looking to be paid.) For around five bucks you get to choose from salad, a hot meal bar, maybe even a grill. And because of the consistency of certain items (like the salad bar) and the variety of other sections (the hot meal bar will change its entrees for every meal), you can really get yourself into a good, healthful eating pattern without getting bored too quickly.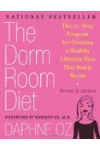 There are many, including have access to a wide variety of foods without any food preparation on your part! Take advantage of the salad bar, fresh fruits, grilled and roasted veggies, and low fat milk and yogurt available in the dining hall.
Devote 1/2 of your plate to fruit and veggies and about 1/4 to grains, preferably whole grains, such as brown rice. The reminder of the plate should contain lean protein such as chicken and fish. Don't forget the low fat milk or yogurt for a perfect meal!
Continue Learning about Teen Perspective: Nutrition and Healthy Eating