You'll probably be surrounded by an abundance of highly processed, highly fattening food in the college cafeteria. The urge to eat these items becomes more pronounced when you see them every day and everyone around you seems to be enjoying them. Learning to pace yourself is the key to avoiding any serious weight gain, whether you're a freshman or a senior. The best way to do this without feeling deprived is to remember that everything is about balance and nothing is off limits. If you overindulge today, eat healthfully tomorrow and the next day.

Experts agree that the important thing is calorie intake over several days, not just one meal. So don't be too hard on yourself if today was especially trying on your waistband; just get back on track tomorrow. A word of caution, though: if you eat poorly one day and healthfully the next, day after day, you'll be thwarting your efforts to get healthy and lose weight. If you are trying to drop pounds, don't eat the wrong stuff every other day and expect to be successful.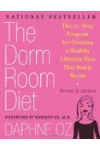 Make sure that you not only eat three meals daily but that fruits and vegetables are at all meals. You should be consuming at least 4.5 cups of produce daily. Take advantage of the salad bar, cooked veggies, and fresh fruit.
When you eat grains, try to choose whole grains such as brown rice, whole wheat bread, and whole grains cereals. You should be consuming three servings of dairy such as nonfat or low fat milk, yogurt, and cheese daily.
Finally, choose leaner cuts of meats such as roast beef, and skinless poultry such as boneless chicken breast more often than fried and fatty cuts of protein.
You can visit: ChooseMyPlate.gov for personalized food plan based on your age, gender, and activity level to help you when you are at college. Continue Learning about Teen Perspective: Nutrition and Healthy Eating