IBS is a very common and frustrating condition because of the symptoms: bloating, cramping, pain. Some people experience constipation with irritable bowel syndrome, while others experience the opposite effect and develop diarrhea. And some people flip-flop between the two extremes, living in a world where one moment they couldn't poop if they tried and the next moment they couldn't stop it if they wanted to.
People with IBS experience some dysfunction of the immune and nervous systems that regulate the lining of the bowel (called the epithelium), which controls the flow of fluids into and out of the intestines. When stuff moves too quickly from start to finish, the intestines can't absorb fluids from it
(hence diarrhea). And when the last meal moves too slowly, the bowel absorbs too much fluid (hence constipation). People with IBS have abnormally low levels of serotonin, most of which is produced in your gut, not your brain.
This causes all kinds of digestive problems and makes these people more susceptible to feeling pain when those problems arise.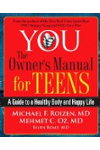 Continue Learning about Teen Perspective: Nutrition and Healthy Eating