Two easy tests can tell you whether you're a supertaster or undertaster.

The Saccharin Test: Mix one pack of saccharin (Sweet'N Low) into two-thirds of a cup of water (that's about the size of the tennis ball). Now, taste the water. You'll probably taste a mix of both bitter and sweet, but see which taste is stronger. If sweet is dominant, then it means you're likely a supertaster, and if bitter is dominant, it means you're more likely an undertaster. If it's a tie, you are like half the population, so don't sweat it.

The Blue Tongue Test: Wipe a swab of blue food dye on your tongue and see the small circles of pink-colored tissue that polka-dot the newly painted blue canvas—those are your papillae. Then put a piece of paper—with a 4-mm hole, or the size of a hole-punch in three-ring paper—over your tongue. Using a magnifying glass, count the little pink dots you see in the hole. If you have fewer then five dots, it means you're an undertaster, while more than 30 indicates you're probably a supertaster.

Both supertasters and undertasters have their own specific health risks and concerns.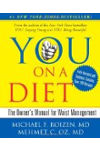 Continue Learning about Taste & The Nervous System