Here are the top things that we treat in the ER, where, you'll remember, injuries are the second most common reason for teen visits:

Concussions and serious head trauma: Concussions occur in 1.1 million people a year, but even seeing stars from a minor head injury can lead to later memory loss. That's because your brain is floating in a sea of liquid; when your head stops suddenly, your brain bashes against your skull, potentially damaging the sheaths that protect your neurons. And those damaged neurons are what could make you occasionally forget your mother's birthday or the lyrics to the latest All-American Rejects song. Damage from repeated minor trauma, no matter how inconsequential it may seem at the time, can accumulate so that you suffer from mood changes and memory loss even twenty to forty years later.

Broken bones: The good news is that teen bones heal better than old folks' bones. If it is a "buckle fracture," or the kind that happens when you fall on a wrist extended to break your fall, it can be as simple as living in a cast for six weeks. Other fractures may be a bigger deal, as in a shattered pelvis from a car accident, which may involve months of casting and bed rest. Again, recoverable, but the missed school/life/activities make it a bummer.

Cuts that need stitches: It's best to get these taken care of immediately, as infection can settle in if you wait too long to get to the emergency room. (Not getting to the ER for, say, eight hours would definitely qualify as "too long.") Sutures are usually needed if the cut has jagged edges or is deep enough that it will not heal naturally in a useful way. Stitches have gotten sophisticated, with all sorts of medically safe forms, including dissolvable sutures and "skin glue" (no, not Elmer's or Super Glue used on skin). Not near an ER? Call 911 anyway if you or a friend or family member has a cut that looks serious.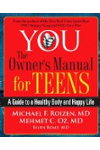 Continue Learning about Teen Perspective: Taking Care of Your Body