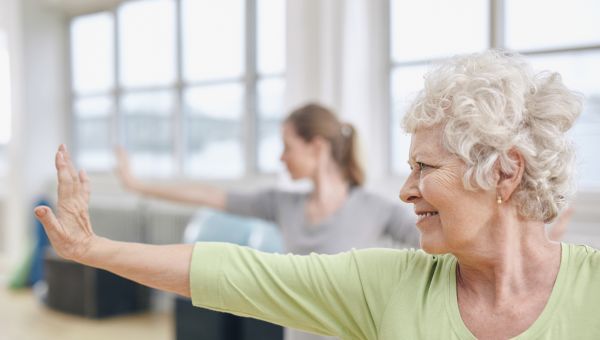 Cancer survivors who exercise regularly may face less risk of cancer recurrence and heart disease.
Sharks aren't the only animals that need to keep moving forward to survive. We know people who get at least 30 minutes of moderate-intensity exercise five days a week have a significantly younger RealAge and live longer than non-exercisers. And now it seems those benefits also come to cancer survivors who exercise regularly.
According to a 20-year study, male cancer survivors (average age 71) who exercised regularly were 38% less likely to die of cancer and 49% less likely to die of heart disease than other cancer survivors who didn't exercise regularly.
The best results came to the guys who expended more than 12,600 calories per week in extra physical activity. A 176-pound man would have to walk briskly for 90 minutes a day, five days a week to burn that many calories. (We like 10,000 steps a day with two days a week of strength training for 20-30 minutes.) But shorter bouts of exercise also provide benefits: Women who've had breast cancer and get 150 minutes of activity a week (21 minutes daily) slash their risk of dying from breast cancer by 25%.
Getting enough physical activity also helps solve two of cancer survivors' toughest challenges: reducing stress and improving sleep (60 percent of cancer survivors report trouble sleeping). That's important for daily quality of life and to stay healthy: Sleeping for seven to eight hours a night eases stress, regulates hormone levels, and boosts immune strength, which may kill cancer cells and help prevent cancer from spreading. So get started walking away from cancer!
Medically reviewed in January 2019.