Here are some tips to protect your child's skin from the sun:
Use sunscreen year-round, even when it's cloudy outdoors.
Reapply sunscreen generously and frequently.
Seek shade when appropriate.
Apply sunscreen 15 to 30 minutes before going outdoors.
Limit your child's sun exposure between 10 a.m. and 4 p.m., when ultraviolet (UV) rays are the strongest.
Wear a hat with a wide brim and tightly woven clothing that covers most of your child's skin.
Wear polarized sunglasses.
Don't let your child use tanning beds or sunlamps.
Wear swim shirts or rash guards for water activity.
Add a UV protectant laundry additive to the wash to give clothing extra protection.
Overexposure to UV rays from the sun during childhood and adolescence greatly increases the risk of skin cancer as an adult. It also raises the possibility of painful sunburn, blistering, peeling, and wrinkles.
Follow these steps to protect your children's delicate skin:
Put a hat on your child and cover up as much skin as possible. Keep in mind that lightweight clothing doesn't provide adequate sun protection, so your child may still need to wear a layer of sunscreen underneath.
Apply PABA-free sunscreen with an SPF of at least 30 to children, even babies. Reapply every few hours and always after swimming.
Wear sunglasses with UV protection starting at a young age.
Limit direct exposure to the sun between the hours of 10 a.m. and 3 p.m., when the sun's rays are the most intense.
Keep children out of direct sun whenever possible, especially children under 6 months. Seek out shady locations to play where you and your child can take refuge from the sun.
From Good Kids, Bad Habits: The RealAge Guide to Raising Healthy Children by Jennifer Trachtenberg.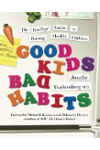 Use sunscreen that is sun protection factor (SPF) 15 or higher, is labeled "broad spectrum," and contains titanium dioxide, zinc oxide, avobenzone, and mexoryl to ensure ultraviolet A (UVA) and ultraviolet B (UVB) protection.
Use sun protection even on cloudy days, as most of the sun's rays can penetrate the clouds.
Put on sunscreen 30 minutes before going outdoors -- it needs time to work on the skin.
Reapply every two hours, especially if your child is playing in the water.
Hats with wide brims all the way around are very effective in protecting the ears, nose, and back of the neck.
Choose tightly woven and dark fabrics over pale or pastel-colored and loosely woven clothes.
Thicker, heavier fabrics offer higher ultraviolet protection factor (UPFs).
Wear loose clothing -- the closer the fabric is to the skin, the less sun protection it offers.
While there have been no studies focusing on the long-term safety of the materials used in sun-protective clothing in children, a review of the available research suggests that the materials in the clothing are not likely to pose any increased risk of harm to children, whereas the beneficial protection they offer against the more clear-cut threat of skin cancer is indisputable.
Continue Learning about Sunburn Prevention