I believe one should introduce strength training exercises into a program or schedule once a physician or medical professional approves. The incorporation of strength- training in a scheduled workout will increase lean muscle tissue and help one to burn more calories in a 24 hour period than just doing cardiovascular training alone.
Completing a 4 to 6 week stage of stabilization endurance training before scheduling a strength-training program would be ideal for your fitness goals and training. The stabilization endurance training, a part of NASM's Optimum performance Training (OPT) model, will effectively and safely insure your progress into strength training. The purpose of stabilization endurance training is to increase muscular endurance and stability while developing and enhancing optimal communication between your nervous system and muscle system, thus promoting neuromuscular efficiency. Progressing in this block of training is proprioceptive based, which means that difficulty is increased by introducing more challenge/load on the balance and stabilization systems of your body. You can apply a stabilization endurance program to work on and improve your body's flexibility, core, balance, strength.
You should introduce strength training into your schedule as soon as you decide you want to make fitness a priority. Both strength training and cardio training are important to any workout regiment. Cardio training build heart health and stamina while strength training build muscle.
If you're like many, strength training is about keeping fit, "toning up" and maintaining or losing weight. If this is the case, perform your strength training whenever you can. Try working out at different times of the day and you may naturally find a preference. Some prefer morning workouts before work or after dropping the kids off at school, lunch time workouts with a coworker, or evening workouts to manage the stress from the day. In any case, find what feels good and stick to it. Using your preferences will help you adhere to an exercise program in the long haul.
If you are super strapped for time, consider having some tubing or dumbbells handy at home/work and sneak in 10 minutes here or there throughout the day. That can be just as productive. Also don't forget the power of accountability. Once you find a time that works well within your day, recruit a workout buddy or schedule sessions with a personal trainer to keep you on track. Eventually strength workouts will become a regular part of your routine and it will be easy to find the time to make them happen!
Strength training should be introduced after 4-6 weeks of stabilization training has occurred. To introduce strength training, take a strength exercise, and superset – or combine it with a stabilization exercise. For instance, immediately follow a set of the bench press with a set of stability ball pushups. Do this with all of your compound, or multi-joint exercises.
Why wait? Strength training is an excellent way to fire up your metabolism, ward off osteoporosis, sculpt your muscles and ignite your inner athlete! Seek out a fitness professional to learn the proper form and begin enjoying the benefits resistance training will bring to your life.
Once you are committed to doing exercise, the next goal is to introduce a little strength training two days a week, if you haven't already, and to exercise five days a week for at least 30 minutes each time.
Do aerobic exercise (walking, biking, jogging, swimming) thrice a week for 30 minutes each time.
Do strength training twice a week. It is essential for heart and bone health and helps to reduce fat around the abdomen. Because muscles need time to recover, make sure to take at least one day off between strength-training sessions.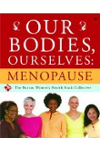 More About this Book
Our Bodies, Ourselves: Menopause
FROM THE EDITORS OF THE CLASSIC "BIBLE OF WOMEN'S HEALTH," A TRUSTWORTHY, UP-TO-DATE GUIDE TO HELP EVERY WOMAN NAVIGATE THE MENOPAUSE TRANSITION For decades, millions of women have relied on Our...
Continue Learning about Strength Training & Exercise