Lifting more than 85 percent of your maximum can increase your risk of injury, while lifting less than 60 percent is not effective. This means that the total number of reps can be low, but the weight should be intense. Each repetition should be taken through a full range of motion in a slow, controlled motion. You should take twice as long to lower the weight as you do to lift it. For instance, you can do biceps curls with either a free weight or tubing. (Resistance tubes are like large rubber bands that you pull. Depending on their size, they offer different degrees of resistance and therefore the amount of work your muscles do. They come in a variety of colors, with each color representing a different resistance strength. You should start with a color that you have to work to pull but that is not so resistant that it hurts or that you cannot complete a set of 10.) When you do biceps curls, if you lift the weight by bending your elbow for two seconds, then you should take four seconds to extend your elbow and lower the weight. Do not jerk the weight up. Jerking the weight up is a good way to tear your musculotendonous junction (the connection between your muscles and your tendons).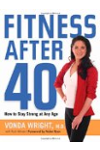 More About this Book
Fitness After 40: How to Stay Strong at Any Age
It's one of the undeniable facts of life. After we reach a certain age, our bodies change. No matter how fit we may have been at 20, we're very different people after 40. But growing older doesn't...
When you weight lift it's important to use enough resistance to provide a challenge, but not too much weight that you can't control the weight safely. All weights should be lowered slowly in a controlled manner, and contractions should occur in a quick and powerful manner. For example, it should take approximately two seconds to lower a barbell from a fully extended position to the chest during a bench press, and should take approximately 1 second to press the bar back to a fully extended position. While lowering the weight always breathe in, and while pushing the bar away from you breathe out. You should never hold your breathe while lifting weights, especially while pushing as this can cause an unsafe rise in blood pressure that can cause serious health problems over time.

Continue Learning about Strength Training & Exercise