A sprain is torn ligament fibers, causing swelling pain and inability of the limb to function normally. Sprains are graded by the resulting loss of joint support. These are treated according to the degree with elastic wrap, splint, cast or even surgery for a full tear! If your ankle or knee is sprained, you will likely be given crutches. Sprains can take weeks to heal. You will be measured and taught how to use your crutches. Pay attention -- you do not want another injury.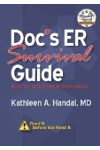 More About this Book
Doc's ER Survival Guide (DocHandal's Guides)
Few people get through life without at least one trip to the emergency room (ER), either as a patient or support person for a family member or friend. Doc's ER Survival Guide is designed to help...
Continue Learning about Sprains and Strains