Ultimately, to reach fearlessness and overcome our fear of death, we need to bring into our daily lives a grace beyond our minds and our emotions. There is no better way to do this than with a daily practice. As the Quakers say, "When you pray, move your feet." And when you move your feet, you can pray.
Meditation, yoga, affirmations, and daily prayer all help connect us to this higher reality beyond our immediate concerns. My mother even made washing the dishes part of her spiritual practice (though, hard as she tried, she was never able to make vacuuming play that role!). The payoff for spiritualizing the everyday is immediate and enormous. When we look at our world from a higher point of view, all our fears are put into perspective and even our biggest problems become less overwhelming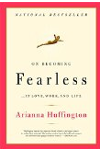 More About this Book
On Becoming Fearless...in Love, Work, and Life
Observing that her own teenage daughters were beginning to experience some of the same fears that had once burdened her--how attractive am I? do people like me? do I dare speak up?--Arianna...
Daily spiritual practice is important to the process of remaining conscious and aware. It aids us in developing a foundation of reliency and reminds us to resist the temptations that prey upon our human faults and frailties. Daily spiritual practice is essential for recognizing and expressing gratitude for our health, welfare and well being as well as that of our loved ones and others who are less fortunate.
Continue Learning about Spirituality and Religion