Socrates taught that we should "practice death" daily, to help us realize what's really important. But our culture makes this harder than ever, intent as it is on practicing the denial of death.
The ancient Romans used to carve MM on the bases of statues and on the trunks of trees. The letters stand for Memento Mori: Remember Death. This was not intended as a sign of morbidity but as a mental tool with which to overcome the fear of the unknown, a way to come to terms with life's only inevitability, demystifying it by keeping it close. Remembering death, reminding ourselves of its silent presence, can help us appreciate life to the fullest.
Trusting that there is more to the world than what we can see and finding a way to connect to it can help us face our mortality with fearlessness and bring this fearlessness to our everyday life.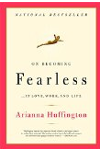 More About this Book
On Becoming Fearless...in Love, Work, and Life
Observing that her own teenage daughters were beginning to experience some of the same fears that had once burdened her--how attractive am I? do people like me? do I dare speak up?--Arianna...
Thinking about death helps us to focus on the important aspects of our life such as our relationships, our achievements and the goals we have in our lives. It brings to our awareness how precious time is, and how, each day, we are closer to our death. This alone helps us refocus our time and energy on things that are important to achieve before we die.
Continue Learning about Spirituality and Religion